Akatosh the Divine
Admin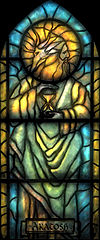 Appearance

: 188

Ranged attack

: 2010-08-02


Subject: Streets of Skingrad Mon Aug 23, 2010 5:38 am

---

Streets of Skingrad

Skingrad is a large town located in the West Weald region, to the southwest of the Imperial City, along the Gold Road. The town divides into three districts: the Castle, Hightown, and Chapel, with various gates and bridges connecting each district. The town is further divided in two parts: the north wall encompasses the business district and the guild halls, while the southern half holds homes and the Great Chapel of Julianos, where citizens and travelers can pray for healing. Outside of town is the castle of Janus Hassildor, count of Skingrad and wizard, who is reportedly a vampire, a fact known to and kept as a secret by the Mages Guild.

The town is particularly famous for its wines, tomatoes, and cheeses, which contributes to its overall prosperity. Famous wine makers in Cyrodiil such as the Surilie brothers and Tamika live in the town.

For more information follow

this link.