Akatosh the Divine
Admin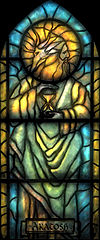 Appearance

: 188

Ranged attack

: 2010-08-02


Subject: Imperial Trading Company Mon Aug 02, 2010 9:19 am

---

Imperial Trading Company

The Imperial Trading Company is the Imperial Trading Company's offices and warehouses in the Waterfront District.

The three doors on the inside of the harbor wall lead to the Imperial Trading Company Office, where Company Boss Damian Magius resides, and two warehouses. Every morning at 9am, Damian will unlock the two warehouse doors, giving the many employees access to their workplace. The employees mostly consists of poor Waterfront District residents, but also higher class citizens like Algot the Northerner from the Temple District works there. At 6pm, Damian Magus will lock up the two warehouses for the night and all the employees will return to their homes.

The office is entered via the northernmost door on the inside of the harbor wall, closer to The Marie Elena than The Bloated Float Inn. In the west corner sits a food cupboard and three apples strewn on the floor. Three barrels and two chests sit against the southwest wall and they all contain clutter, as do the two non-respawning sacks nearby. The door in the southern corner leads to the basement. Next to the stairs two crates contain more clutter, as does a final non-respawning sack. At the top of the stairs, the door leads to Damian Magius' private quarters.

Elders Scrolls Wikia entry on this location can be found

here.