Akatosh the Divine
Admin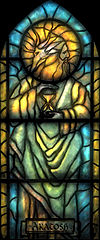 Appearance

: 188

Ranged attack

: 2010-08-02


Subject: Arboretum Park Mon Aug 02, 2010 8:25 am

---

Arboretum Park

The Arboretum is, as the name implies, the park of the Imperial City. There are statues of the Nine Divines, including a statue of Tiber Septim in the center. To the southwest is a statue of Akatosh, which depicts a man holding an hourglass who has a dragon's head poking out of his back. If the quest Lost Histories has been completed, then Larthjar the Laggard may live here.

Elder Scrolls Wikia entry on this location can be found

here.