Akatosh the Divine
Admin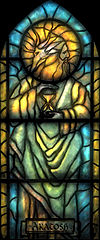 Appearance

: 188

Ranged attack

: 2010-08-02


Subject: Valus Mountains Mon Aug 23, 2010 12:40 pm

---

Valus Mountains

The Valus Mountains are a mountain range on the Cyrodiilic side of the Cyrodiil/Morrowind border. They share a northern border with the Jerall Mountains and a southwestern border with the Nibenay Basin. The Valus Mountains are steeper and more difficult to traverse than the Jerall Mountains, and the harsher environment is reflected in the vegetation. Only Clouded Funnel Cap mushrooms, Milk Thistle, Motherwort and Tinder Polypore Cap mushrooms grow in the mountains' inhospitable heights.

For more information follow

this link.