Akatosh the Divine
Admin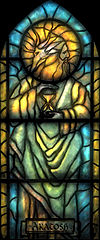 Appearance

: 188

Ranged attack

: 2010-08-02


Subject: Slash 'N Smash Mon Aug 02, 2010 7:50 am

---

Slash 'N Smash

Slash 'N Smash is a weaponry store located in the Imperial City's Market District. It is found across the street from Edgar's Discount Spells and next to the Mystic Emporium and The Gilded Carafe. The shop is open every day between 8am and 8pm. On Loredas and Sundas between 8am and midnight. The proprietor, Urbul gro-Orkulg, will buy your weapons, armor and miscellaneous items whilst only selling blunt weapons. Strangely, this store doesn't have a unique item for sale. Urbul also offers repair services. Slash 'N Smash is divided into three areas: Slash 'N Smash, Slash 'N Smash Living Quarters and Slash 'N Smash Basement. The main trading room is on the ground floor and consists of a counter and a display of various armor and weapons. For decoration, several skulls and bones are scattered around the many weapons on display. Several carpets have been hung on the walls and on the eastern wall, two hunting trophies watch silently over the shop: the head of a deer and a minotaur. Compared to some of the other shops in the District, the shop appears bare at first glance as most of the exhibit tables are just plain wood with some weapons laid out. The front door opens to an exhibition table along the eastern wall, showcasing an iron battle axe and a similar one in steel. Following the wall, the next table has an iron warhammer, an iron mace and an iron war axe. Opposite this table, another table showcases a club, a steel war axe and a steel mace. On a small podium, Urbul has used a skull to demonstrate the use of an iron helmet. In the corner at the bottom of the stairs, you'll find a practice pad for testing. On top of the counter lies a steel warhammer as well as four copies of Mixed Unit Tactics and four of Manual of Armor. BHidden behind the counter is a very hard locked chest with two or three leveled pieces of equipment. This chest does not respawn. On top of the chest sits a repair hammer. On the table lies a leather shield and underneath the shield, another repair hammer. Underneath the table, a pair of leather boots and a sack with clutter and clothing. In the corner by the basement door, a desk reveals even more clutter.

Elder Scrolls Wikia entry on this location can be found

here.