Akatosh the Divine
Admin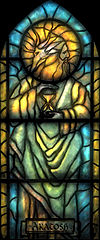 Appearance

: 188

Ranged attack

: 2010-08-02


Subject: Castle Bravil Mon Aug 23, 2010 4:01 am

---

Castle Bravil

Castle Bravil is on Bravil's southeastern island, separate from the rest of the city. It is the seat of the Count of Bravil, Count Regulus Terentius.

The castle is divided into the Castle Bravil Great Hall, Castle Bravil Barracks, Castle Bravil Dining Hall, Castle Bravil Dungeon, Castle Bravil Servant's Quarters, Private Quarters East Wing, and Lord's Manor North Wing. If you break into Fathis Aren's quarters, you'll find a secret passage into Bravil Wizard's Grotto that leads to Fathis Aren's Tower.

Outside, the castle gardens are much more visually pleasing than the rest of the city, and Dro'shanji can often be found there.

For more information follow

this link.