Akatosh the Divine
Admin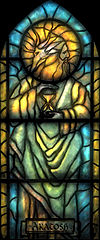 Appearance

: 188

Ranged attack

: 2010-08-02


Subject: Anvil Mages Guild Mon Aug 23, 2010 3:49 am

---

Anvil Mages Guild

Anvil Mages Guild is found across the courtyard from the main gate, between the Fighters Guild Hall and a row of residential houses. Anvil's Mages Guild specializes in Restoration magic. The first, second, and third floors are divided into the Anvil Mages Guild, the Mages Guild Library, and the Mages Guild Living Quarters. The front door opens into an entrance where Carahil can be found standing behind a desk during the day. Baeralorn visits her here in the afternoons. On the desk are a few common books, a novice retort and alembic, and two potion recipes, one to restore health and one to restore willpower. Through the doorway to the right is a small room with minor clutter, several more common books, a copy of Magic from the Sky, and novice apparatus, including a calcinator and mortar and pestle. The next room is a dining room, which contains three bottles of cheap wine as well as normal food and dishes and even more apparatus. A display case contains an empty lesser soul gem, a scroll of enthralling presence, and a copy of Mysticism. Marc Gulitte eats lunch and dinner here every day, while Carahil, Felen Relas, and Thaurron dine here only in the evenings. Through the doorway to the left when facing Carahil's desk is a small room where Felen Relas can be found mixing potions behind a counter every morning. On the table and counter in here are more clutter and common books along with two empty soul gems, one lesser and one petty (both owned by Felen Relas), and two scrolls (also owned by Felen Relas), one of weakness to frost and one of aquatic adaptation. Marc Gulitte spends most of his day reading in the chair in the corner. The next room can also be accessed through the dining room and contains food, clutter, and a staircase that leads to the door to the Library.

For more information follow

this link.