Akatosh the Divine
Admin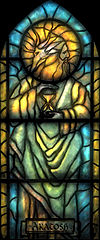 Appearance

: 188

Ranged attack

: 2010-08-02


Subject: Chapel of Dibella Mon Aug 23, 2010 3:47 am

---

Chapel of Dibella

Chapel of Dibella is in Anvil's Chapelgate district, next to the gate to Anvil Castle and across from the graveyard. This chapel specializes in Luck and Personality. The building is divided into the Chapel of Dibella, the Chapel Hall, and the Chapel Undercroft. All three front doors open into an entrance only two steps elevated from the main room ahead. A staircase here leads below the front doors where two doors on the west wall lead into the Undercroft and a door on the east wall leads into the Chapel Hall. The cathedral altar at the end of the room holds a sample of viper's bugloss and a sample of blue flax on a pedestal on each side. Nine altars to each of the Nine Divines line the walls around this room.

For more information follow

this link.