Akatosh the Divine
Admin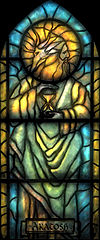 Appearance

: 188

Ranged attack

: 2010-08-02


Subject: Anvil Fighters Guild Mon Aug 23, 2010 3:46 am

---

Anvil Fighters Guild

Anvil Fighters Guild is near the center of town, between the Mages Guild Hall and Heinrich Oaken-Hull's house. The building is divided into the Fighters Guild, the Fighters Guild Dining Hall, and the Fighters Guild Company Offices.

Upon entering the Fighters Guild Hall, a chain doll training dummy is displayed right in front of the door. Llensi Llaram, Rhano, Azzan, Rufrius Vinicius, and a Fighters Guild Porter may be found in this room. An iron claymore and an iron warhammer sit on a rack on the southeast wall, while a rack on the southwest wall holds an iron longsword and two iron daggers. The open doorway in the south corner leads to a small room where Vigdis can often be found. The four crates, two on either side of the open doorway, all contain clutter and/or a repair hammer, as do the two barrels on the wall next to the bookshelf. All of the containers in this room respawn. The stairs here lead up to the Dining Hall, while the door in the northeast wall leads to a small single bedroom. The bed is in the south corner, and the chest of drawers next to it holds only clutter. On the table in the north corner sits a shepherd's pie, a cheese wheel, and a bottle of beer. The other door here leads to a large bedroom. This room can also be accessed through the door on the northeast wall of the main entrance room. Sten the Ugly and Huurwen may be found in here. Six single beds line the northeast wall; a chest at the foot of each contains clutter. The chest of drawers on the southwest wall also contains clutter, as does the sack beside it. The sack does not respawn; however, every other container in this room does.

For more information follow

this link.