Akatosh the Divine
Admin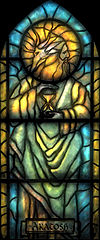 Appearance

: 188

Ranged attack

: 2010-08-02


Subject: The Flowing Bowl Mon Aug 23, 2010 3:43 am

---

The Flowing Bowl

The Flowing Bowl is a tavern located on Anvil's Waterfront. It is found in front of the ship named The Serpent's Wake and next to Lelles' Quality Merchandise.

The owner, Maenlorn, will buy anything whilst only selling food and the unique gauntlets, Fists of the Drunkard, which fortify your Strength and Endurance while draining your Intelligence and Willpower. The ground floor is the main reception area and dining room, and the bedrooms are upstairs.

For more information follow

this link.