Akatosh the Divine
Admin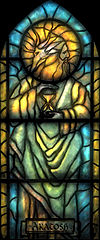 Appearance

: 188

Ranged attack

: 2010-08-02


Subject: Lucky Lockup Mon Aug 02, 2010 7:00 am

---

Lucky Lockup

The Lucky Lockup is a Tavern offering beds in Balmora. The tavern is conveniently located across from the Silt Strider and the City Gates. None of the polyglot patrons want any trouble with the Camonna Tong, in the Council Club next door. Benunius Agrudilius sells the usual food and drinks, and rents rooms for 10 gold per night. He may donate one bottle of Cyrodiilic Brandy for the Fundraising Dinner. Hickim offers training and Thieves Tools. The tavern has a small stage, complete with drums and a lute, although the bard Chuna isn't performing at the moment. The Master Trainer in Short Blade, Todwendy, has a room upstairs.

Elder Scrolls Wikia entry on this location can be found

here.