Akatosh the Divine
Admin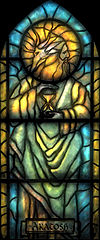 Appearance

: 188

Ranged attack

: 2010-08-02


Subject: Anvil Castle Mon Aug 23, 2010 3:37 am

---

Anvil Castle

Anvil Castle is in the southern half of Anvil, on an island outside the city. It is the seat of the Countess of Anvil Millona Umbranox, whose husband, Corvus Umbranox, has been missing for at least ten years. Castle Anvil is unique because of its many secret passageways that can be used to advance through the castle quickly. The castle is divided into Anvil Castle, Castle Barracks, Smithy, Dining Hall, Dungeon, Private Quarters, and Royal Quarters. In addition, Smuggler's Cave has a secret passage leading into the castle; one exit is in the Dining Hall, and the other is in the Royal Quarters.

For more information follow

this link.