Akatosh the Divine
Admin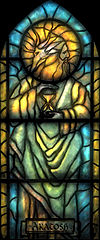 Appearance

: 188

Ranged attack

: 2010-08-02


Subject: Tribunal Temple Mon Aug 23, 2010 3:12 am

---

Tribunal Temple

The Tribunal Temple is the native religion of the Dunmer of Morrowind. They worship Almalexia, Sotha Sil, and Vivec, known together as the Tribunal or Almsivi. Most people usually just call it "the Temple". They accept outlanders as members, but most of the few outlanders that do join, join only for the services provided. On Vvardenfell, the Temple District included the city of Vivec, the fortress of Ghostgate, and all sacred and profane sites (including those Blighted areas inside the Ghostfence) and all unsettled and wilderness areas. In practice, this district included all parts of Vvardenfell not claimed for Redoran, Hlaalu, or Telvanni Districts. The Temple stubbornly fought all development in their district, and were largely successful. The Temple maintains less than favorable relations with most of the other guilds of Morrowind, being allies only with the House Redoran and on friendly terms with House Hlaalu.

Elder Scrolls Wikia entry on this location can be found

here.