Akatosh the Divine
Admin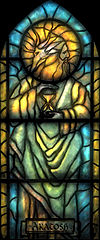 Appearance

: 188

Ranged attack

: 2010-08-02


Subject: Imperial Battlemage's Chambers Mon Aug 02, 2010 9:26 am

---

Imperial Battlemage's Chambers

The door on the west side of this top-level hallway reveals an office room with a large desk facing the door; on it sits three apples, a loaf of bread, two bottles of Tamika Vintage 399, and eight pieces of gold. The table in the southeast corner holds three more apples and another bottle of Tamika Vintage 399. The display cases on the southwest wall hold three common soul gems filled with common souls and a silver battle axe enchanted with absorb magicka in one, seven potions in the other: a strong chameleon, a cure poison, a strong fortify strength, a strong invisibility, a strong night eye, a strong silence, and a strong water breathing potion. The small table in the northeast corner also holds two apples and a bottle of Tamika Vintage 399, and the display case near this on the northwest wall holds a silver dagger and longsword.

The two doors on the east wall of the office lead into the bedroom, where a large bed lies against the west wall between the doors. A clutter chest sits at the foot with five gold on top of it. A small table on one side of the bed holds a bottle of Tamika Vintage 399; the other holds a non-respawning clutter sack. Also against the west wall are a food barrel, a clothing cupboard, a food barrel, a non-respawning gold/jewelry chest that sits on top of the cupboard, and two stacked wine racks that hold seventeen bottles of cheap wine. Three food barrels and six non-respawning sacks, four with clutter and two with grain, sit in the southwest corner of the room. The table in the southern end is set with six strawberries, three apples, three loaves of bread, and a bottle each of Surilie Brothers Wine and Surilie Brothers Vintages 415 and 399. Six non-respawning clutter sacks sit on the northernmost bookshelf. The shelf beside it holds four bottles of beer and two food barrels sit between them. The shelves north of the fireplace holds two more non-respawning clutter sacks, while the shelves south of the fireplace hold a non-respawning clutter sack, two bottles of Surilie Brothers Wine, and a copy of the speechcraft skill book 2920, Second Seed. The fireplace serves as a doorway during The Ultimate Heist, leading back to The Old Way.

Elder Scrolls Wikia entry on this location can be found

here.