Akatosh the Divine
Admin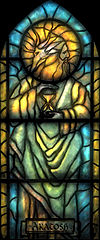 Appearance

: 188

Ranged attack

: 2010-08-02


Subject: Palace Basement Mon Aug 02, 2010 9:23 am

---

Palace Basement

Upon entering the basement from the Elder Council chambers, a set of shelves ahead on the south side of the hallway that surrounds the central area holds two clutter crates and a clutter sack. Further along in the hallway lie four crates and two barrels, both containing clutter, and beyond them another five clutter crates. Just before the end of the hallway another two clutter crates and three clutter barrels sit near the arches. At the end of the hallway are several giant-sized items: a chair, a club, a crystal ball, and an hourglass. The hourglass is used to unlock the pathway used in The Ultimate Heist. Among the oversized objects are a clutter barrel, eight clutter crates, and a non-respawning chest that can hold armor and weapons.

In the central area, the northern part of the room holds a clutter barrel, four clutter crates, and three food barrels. On the east side of the room sits ten more clutter crates, another seven clutter barrels, seven non-respawning clutter sacks - four with clutter and three with grain, two more non-respawning armor/weapons chests, another chest that holds clutter, a food cupboard, and four wine racks that hold between them thirty-nine bottles of cheap wine. Another clutter barrel sits on the south side of the room, near three kennels. Around the central support pillar are eighteen clutter crates, five clutter barrels, a clutter chest, and a final non-respawning clutter sack.

Elder Scrolls Wikia entry on this location can be found

here.