Akatosh the Divine
Admin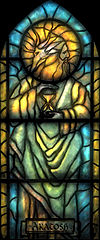 Appearance

: 188

Ranged attack

: 2010-08-02


Subject: Elder Council Chambers Mon Aug 02, 2010 9:22 am

---

Elder Council Chambers

The Elder Council's chambers is the only legally accessible area of the Imperial Palace. A hallway circles the main chamber which holds the large table surrounded by High Chancellor Ocato's chair and twenty-nine others. Following the hallway clockwise leads to the basement, while the other end of the hall leads to the second floor balcony over the main chamber. The other door on the second level leads to the guard quarters.

Elder Scrolls Wikia entry on this location can be found

here.