Akatosh the Divine
Admin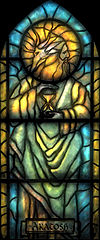 Appearance

: 188

Ranged attack

: 2010-08-02


Subject: Imperial Watchtower Mon Aug 02, 2010 8:56 am

---

Imperial Watchtower

The watchtower serves as a break room for guards. The room is mostly empty, with two small benches and a table on the west side of the room set with an apple, two pieces of boar meat, three loaves of bread, a cheese wedge, two potatoes, and a tomato. A chest of drawers containing clutter can be found near the table. A small table on the east side of the room displays a sweetroll and a sweetcake, two apples, and a pear. Behind it sits a chest that also contains clutter, with a repair hammer and two clutter sacks sitting next to it. Two clutter crates and a third clutter sack sit nearby, and on the opposite side of the chest sits two food barrels. The sacks are the only containers in the room that do not respawn.

A ladder on the south side of the room leads to the barracks.

Imperial Watch Barracks

The barracks serve as sleeping quarters for guards day and night. Four beds occupy most of the barracks. Four chests accompany each bed, and five sacks can be found sprawled throughout the room; they all hold clutter. The chests respawn, but the sacks do not.

Elder Scrolls Wikia entry on this location can be found

here.