Akatosh the Divine
Admin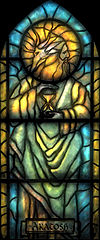 Appearance

: 188

Ranged attack

: 2010-08-02


Subject: Chironasium Mon Aug 02, 2010 8:55 am

---

Chironasium

This room is used for enchanting. Four altars of enchanting can be found on the main floor, with one hiding in a corner. The mysticism skill book Before the Ages of Man can be found on an altar across the room. A desk next to the front door has three common soul gems, five petty soul gems, and a sample of bonemeal on top of it. Three more common soul gems can be found on a desk across from this one along with two more samples of bonemeal. The bookshelf in the northern corner holds six novice retorts, two novice mortar & pestles, two novice calcinators, and a few books including a copy of More than Mortal. Delmar's cupboard on the southwest wall contains random scrolls and an alembic and retort sit on top of it. Two chests, two desks, and four sacks around the room all contain clutter, and two more sacks - one beside the stairs and one in the southern corner - contain grains. The sacks and Delmar's cupboard are the only containers in the room that do not respawn.

Delmar, head of the enchanting services, can be found roaming around the Chironasium during the day, while Martina Floria can be found offering Master Training in Illusion and recharging services at night.

The upper level of the Chironasium can be reached by a locked door at the top of the stairs.

Chironasium Upper Level

The upper level of the Chironasium serves as a sleeping quarters for Delmar and Martina. On the southwest wall in front of the door sits a desk that contains clutter. On top of it are four pears, a calcinator, and an alembic. In the west corner are their beds, with a clutter chest beside Delmar's bed and another at the foot of Martina's, with a dish on top that holds twelve blackberries. In the north corner, a large bookshelf holds four retorts, an alembic, a copy of Cleansing of the Fane, and two scrolls - one minor heal other and one leech health. The desk in this corner also contains clutter and holds an alembic, a calcinator, a mortar and pestle, and a common soul gem. In the alcove in the east corner, a table holds three apples, a loaf of bread, two pieces of venison, and two bottles of Tamika's West Weald Wine. A third desk on the southeast wall also contains clutter and holds on top a mortar and pestle, two empty common soul gems, and a grand soul gem filled with a common soul.On the floor nearby sits two sacks and two barrels, all containing clutter. The sacks are the only containers in the room that do not respawn.

Elder Scrolls Wikia entry on this location can be found

here.