Akatosh the Divine
Admin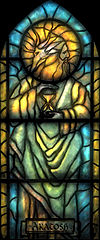 Appearance

: 188

Ranged attack

: 2010-08-02


Subject: Streets of the Arboretum Mon Aug 02, 2010 8:37 am

---

Streets of the Arboretum

The Arboretum is, as the name implies, the park of the Imperial City. There are statues of the Nine Divines, including a statue of Tiber Septim in the center. To the southwest is a statue of Akatosh, which depicts a man holding an hourglass who has a dragon's head poking out of his back. If the quest Lost Histories has been completed, then Larthjar the Laggard may live here.

Elder Scrolls Wikia entry can be found

here.