Akatosh the Divine
Admin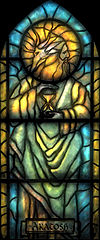 Appearance

: 188

Ranged attack

: 2010-08-02


Subject: Arena Bloodworks Mon Aug 02, 2010 8:22 am

---

Arena Bloodworks

The bloodworks serve as an underground training and recruitment area beneath the arena. It is so named as blood from the arena above often seeps down to this lower level. This is where you can meet a few of the combatants and can join the arena by speaking with Owyn. In the main room an array of training equipment is set up, along with two bedrolls in the west end of the room near the enclosure where Porkchop is kept. An iron longsword is embedded in the ground near the foot of one of the bedrolls, and though it is not visible it can be picked up. A table between the columns on this end of the room holds a single bottle of Surilie Brothers Wine. Two weapons racks sit against the curved northern wall; one holds three iron warhammers, and the other holds two iron claymores.

Either of the first two doorways on the curved wall lead to a room where Owyn can be found to the east and Ysabel Andronicus to the southwest. Behind Owyn a weapons rack holds two more iron claymores, and a cabinet holds five heavy raiments and five light raiments. A letter lies crumpled on the floor beside the cabinet. In the west end of the room are two more bedrolls and another raiment cabinet with the same contents as the other in this room. A food cupboard sits next to the raiment cabinet, and three non-respawning clutter sacks lie between them. Another cupboard holds the athletics skill book The Ransom of Zarek. A gate between Porkchop's enclosure and this room leads to the arena, and the Basin of Renewal at the bottom of the ramp replenishes health, magicka, and fatigue after matches.

Elder Scrolls Wikia entry on this location can be found

here.