Akatosh the Divine
Admin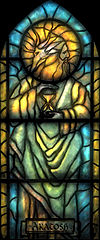 Appearance

: 188

Ranged attack

: 2010-08-02


Subject: Nalcarya of White Haven's Alchemy Shop Mon Aug 02, 2010 6:41 am

---

Nalcarya of White Haven's Alchemy Shop

Nalcarya of White Haven is a very wealthy female Altmer alchemist who sells a wide variety of alchemy supplies from her shop in Balmora. She is also a restocking vendor of the following ingredients: Alit Hide, Black Anther, Bloat, Daedra Skin, Daedra's Heart, Diamond, Fire Salts, Frost Salts, Kwama Cuttle, Muck, Pearl, Racer Plumes, Ruby, Scales, Scrap Metal, Sload Soap, Trama Root, Vampire Dust and Void Salts. She also carries a complete set of Master's apparatus (which also restock), and both a Master's and a Grandmaster's Mortar & Pestle on the shelf near the stairs (with her guard right nearby). Sugar-Lips Habasi is very interested in her diamonds.

Elder Scrolls Wikia entry on this location can be found

here.