Akatosh the Divine
Admin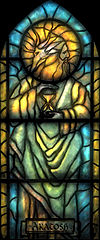 Appearance

: 188

Ranged attack

: 2010-08-02


Subject: A Fighting Chance Mon Aug 02, 2010 8:06 am

---

A Fighting Chance

A Fighting Chance is an armor and weaponry store located in the Imperial City Market District. It is found across the street from the Warehouse and next to The Merchants Inn and The Main Ingredient. The proprietor, Rohssan, has 1200 gold and a Mercantile skill of 80. When bartering, she will buy your weapons, armor and miscellaneous items whilst only selling blades. Her wares include the unique Battleaxe of Hatred, which has damage Strength, Endurance and Willpower enchantments. Rohssan also offers repair services and advanced Armorer training. A Fighting Chance is divided into three areas: A Fighting Chance, A Fighting Chance Private Quarters and A Fighting Chance Basement.

Elder Scrolls Wikia entry on this location can be found

here.