Akatosh the Divine
Admin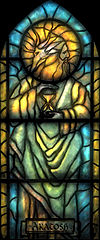 Appearance

: 188

Ranged attack

: 2010-08-02


Subject: The Merchants Inn Mon Aug 02, 2010 8:05 am

---

The Merchants Inn

The Merchants Inn is an inn located in the Imperial City's Market District. It is found across the street from Jensine's "Good as New" Merchandise and next to A Fighting Chance and the First Edition. The establishment lives up to its name, as many of the merchants from the Market District come here after their shops close. The publican, Velus Hosidius, buys potions and food while only selling the latter. Nilphas Omellian can also be found here with the Fighter's Stronghold official plug-in; he sells the Battlehorn Castle upgrades.

The ground floor contains the main reception area and the dining room, the rooms are upstairs, and a basement serves as storage below.

Elder Scrolls Wikia entry can be found

here.