Akatosh the Divine
Admin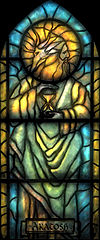 Appearance

: 188

Ranged attack

: 2010-08-02


Subject: Rindir's Staffs Mon Aug 02, 2010 7:59 am

---

Rindir's Staffs

Rindir's Staffs is a store specializing in staves located in the Imperial City's Market District. It is found across the street from The Best Defense and next to The Copious Coinpurse and Edgar's Discount Spells. The proprietor, Rindir, has 600 gold and a Mercantile skill of 30. When bartering, he will buy armor, clothing, weapons and magical items from you whilst only selling staves and a few robes and hoods. His wares include the zero-weight Mage's Hoods which are useful for cursed enchantments and the unique staff Apotheosis, which has Fire, Frost and Shock Damage enchantments. Rindir's Staffs is divided into three areas: Rindir's Staffs, Rindir's Private Quarters and Rindir's Basement.

Elder Scrolls Wikia entry on this location can be found

here.