Akatosh the Divine
Admin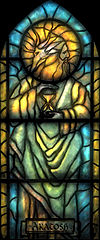 Appearance

: 188

Ranged attack

: 2010-08-02


Subject: The Gilded Carafe Mon Aug 02, 2010 7:53 am

---

The Gilded Carafe

The Gilded Carafe is an alchemy store located in the Imperial City's Market District. It is found across the street from Rindir's Staffs and next to Slash 'N Smash and The Best Defense. The shop is open every day between 8am and 8pm. The proprietor, Claudette Perrick, will buy and sell potions, alchemical apparatus and ingredients, as well as the unique Elven cuirass Birthright of Astalon, which fortifies your agility and your magicka.

Elder Scrolls Wikia entry can be found

here.