Akatosh the Divine
Admin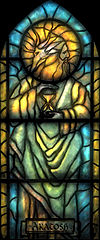 Appearance

: 188

Ranged attack

: 2010-08-02


Subject: Gold Coast Mon Aug 23, 2010 12:34 pm

---

Gold Coast

The Gold Coast is a coastal area covering the peninsula on the west coast of Cyrodiil. It is bordered on the west by Hammerfell and the Abecean Sea. The borders of the Colovian Highlands and the West Weald lie to the east. The Gold Road, running from Kvatch to Anvil, cuts through the middle of the region.

Within Gold Coast lies the cities of Anvil and Kvatch and the counties of County Anvil and County Kvatch.

Along the coast itself are plentiful Water Hyacinth plants, along with a few of the elusive Nirnroot. Further inland there is a bounty of Aloe Vera, Fennel, Lady's Mantle and Goldenrod plants - providing ingredients that are rare elsewhere in Cyrodiil. There are also many Arrowroot, Bergamot, Ginseng, Mandrake, St Jahn's Wort and Lily plants, but those ingredients are also found elsewhere.

For more information follow

this link.