Akatosh the Divine
Admin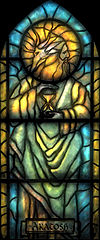 Appearance

: 188

Ranged attack

: 2010-08-02


Subject: Mystic Emporium Mon Aug 02, 2010 7:47 am

---

Mystic Emporium

The Mystic Emporium is a magic and alchemy store located in the Imperial City's Market District. It is found across the street from Edgar's Discount Spells and next to Divine Elegance and Slash 'N Smash. The proprietor, Calindil, buys weapons, armor, books, magic and miscellaneous items. In turn he will sell you scrolls, soul gems, spells, and a strangely wide range of non-random magic items which include the unique Hands of the Atronach as well as the Feather Shoes and Fortify Fatigue Pants on display in the store. She also offers Recharging services. When bartering, she will buy your ingredients, potions, alchemy apparatus, books and magic and miscellaneous items. In turn, she will sell you ingredients, potions, soul gems as well as all the upgrades for Frostcrag Spire. Mystic Emporium is divided into three areas: Mystic Emporium, Mystic Emporium Private Quarters and Mystic Emporium Basement.

Elder Scrolls Wikia entry on this location can be found

here.