Akatosh the Divine
Admin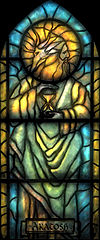 Appearance

: 188

Ranged attack

: 2010-08-02


Subject: IMPORTANT: Boris Julared (Example Character Sheet) Mon Aug 23, 2010 7:06 am

---

This is how a character sheet should look like. Please keep to this format in order to make it easier for other players to understand it. You start at level 1 and with 20 in Hit points as well as 2 points per attack.

Basic Info

Name/Class:

Boris Julared

Gender:

Male

Class:

Rogue

Race:

Imperial

Birthsign:

The Thief

Brief History:

Boris Julared was a beggar located at the Imperial District of Vvardenfell, province of Morrowind. This would however one day change as he fell off the edge of the docks into a small boat. Knocked unconscious he did not notice as the captain of the ship returned and set sail towards the Imperial City. A few days later Boris woke up with a throbbing headache. On weary legs he stumbled onto the waterfront. It was now he noticed that he had no idea where he was, or who he was. The blow to his head had caused him to become amnesic. He was however determined to find out the truth about his past so he set out towards the mage's guild, hoping that they would help him. Attribute levels

Level: 1

Hit points: 20

Ranged attack: 2

Melee attack: 2

Magic attack: 2

As you level up you are expected to make changes to your Character Sheet yourself. It is this sheet that has authority in battles and so on. Saying that you have forgotten to level up and update your Character Sheet is not a valid excuse for getting your ass kicked. More info about how to create your character and much more can be found

here.