Akatosh the Divine
Admin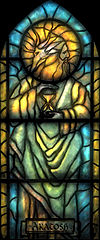 Appearance

: 188

Ranged attack

: 2010-08-02


Subject: The Great Chapel of Zenithar Mon Aug 23, 2010 5:28 am

---

The Great Chapel of Zenithar

The Great Chapel of Zenithar is in northwest Leyawiin, across the street from Margarte's house. This chapel specializes in Endurance and Luck.

The building is divided into The Great Chapel of Zenithar, the Chapel Hall, and the Chapel Undercroft. The three front doors open onto an entrance with a short set of stairs in the middle of this area leading to a small hallway with two doors on the north wall to the Undercroft and the one on the south wall to the Chapel Hall. The main room of the chapel is two steps lower than the entrance, and the large cathedral altar sits at the end, with an altar to each of the Nine Divines surrounding the main room. Avrus Adas, Silana Blandia, and Kantav Cheynoslin can often be found here.

For more information follow

this link.