Akatosh the Divine
Admin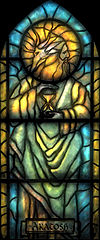 Appearance

: 188

Ranged attack

: 2010-08-02


Subject: Streets of Leyawiin Mon Aug 23, 2010 5:24 am

---

Streets of Leyawiin

Leyawiin is a Cyrodiilic city in the extreme southeast of the province, by the mouth of the Niben River where it opens into Topal Bay. Located on the small strip of land between the provinces of Elsweyr and Black Marsh, the recently ceded Trans-Niben, it has a sizable population that includes many Khajiit and Argonians. Marius Caro is the Count of Leyawiin. The city of Leyawiin straddles a swampy estuary of the Niben River. It is roughly divided into four districts: Chapel District, Guild Plaza, Main Street and Castle Leyawiin.

For more information follow

this link.