Akatosh the Divine
Admin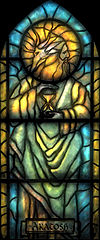 Appearance

: 188

Ranged attack

: 2010-08-02


Subject: Kvatch Castle Mon Aug 23, 2010 5:19 am

---

Kvatch Castle

Kvatch Castle is at the northwestern end of Kvatch, surrounded by a moat. Before the Oblivion Crisis, it was the seat of the Count of Kvatch, Count Ormellius Goldwine. The castle's Great Hall is divided into two separate cells. The second leads through to the Dining Hall, the Sleeping Quarters, and the Count's Quarters. An underground Passageway also connects an exterior portion of the castle's keep to a tower outside the moat.

For more information follow

this link.