Akatosh the Divine
Admin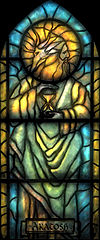 Appearance

: 188

Ranged attack

: 2010-08-02


Subject: Streets of Cheydinhal Mon Aug 23, 2010 4:35 am

---

Streets of Cheydinhal

Cheydinhal consists of three districts: Cheydinhal Castle, Market, and Chapel. The dominating feature of the city is a tributary of the Corbolo River, which bisects the city from north to south. The river is crossed by three bridges: a single bridge to the north connects the Market district to the Chapel district, while two smaller bridges south connect the southwest plaza and Chapel via a small island park. The current Count is Andel Indarys of House Hlaalu.

For more information follow

this link.