Akatosh the Divine
Admin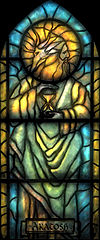 Appearance

: 188

Ranged attack

: 2010-08-02


Subject: Jerall View Inn Mon Aug 23, 2010 4:24 am

---

Jerall View Inn

The Jerall View Inn is a fairly nice inn located in Bruma. Despite its name, it actually faces away from the Jerall Mountains: it is found on the second level of houses in the city, next to Novaroma.

The publican, Hafid Hollowleg, buys potions and food whilst only selling the latter. The ground floor contains the main reception area, which consists of a bar, a dining room and a fully stocked kitchen, complete with its own chef. Upstairs are Hafid's private quarters, which are locked. They contain a writing desk and owned double. The rooms are in the underground floor of the inn, like most of the living quarters of Bruma's houses and stores.

The room you can rent is spacious, cozy and well-lit. It contains an upper-class double bed, a table, a writing desk, a chest of drawers and a cupboard. In the corridor you will find some silverware and books, although taking them is considered stealing.

For more information follow

this link.