Akatosh the Divine
Admin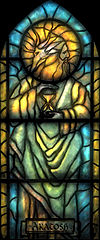 Appearance

: 188

Ranged attack

: 2010-08-02


Subject: Bruma Fighters Guild Mon Aug 23, 2010 4:22 am

---

Bruma Fighters Guild

Bruma Fighters Guild is in the northern part of the city, between the Mages Guild Hall and Honmund's house. The building is divided into the Bruma Fighters Guild and the Fighters Guild Basement.

The front door to the Fighters Guild reveals a large entrance room. Next to the front door is a door to the Basement. Bumph gra-Gash, Right-Wind, and a Fighters Guild Porter may be found here. On a bookshelf to the right sits two bottles of mead. The chest next to the pillar holds clutter. In the southwest is a sparring area, with four iron bows on the weapons rack on the west wall, and five iron arrows on the table next to the rack. On a table in the opposite corner sits a leather helmet, three iron longswords, one iron mace, a pair of leather gauntlets and a leather cuirass.

In the northwest is a dining area, with a large round table that seats six in the middle. On the table is only a bottle of cheap wine, a bottle of Tamika's West Weald Wine and an advert for Olav's Tap and Tack. Two barrels stacked in the northeast corner hold clutter and/or a repair hammer, and the barrel beside them contains food. The chest of drawers beside the barrels contains clutter, and two bottles of mead sit on top. The cupboard on the other side of the barrels contains beef, carrots, bread, a cheese wedge. The display case on the north wall is locked with a hard lock, and contains replica items as well as a flawed sapphire and topaz, and a flawless diamond. The two barrels on the west wall contain food. The bookshelf next to it holds two loaves of bread, a pumpkin, two potatos, two tomatos, a head of lettuce, and a cheese wedge. On top of the shelves sits another bottle of Tamika's and one of cheap wine. The chest next to the bookshelf holds clutter. All of the containers here respawn.

The stairs next to the sparring area lead up to a small balcony. Two crates here contain clutter and/or a repair hammer, and both respawn. The door here reveals a room with a single bed in the northeast corner. A chest at the foot of the bed contains clutter, as does the chest next to the head of the bed. The cupboard in the southwest corner contains clothing, and the bookshelf next to it holds a steel dagger. The desk in the middle of the room may contain clutter and/or books, and on top sits a silver shortsword, a cheese wedge and two handbills: one from Wildeye Stables and one from Hammer and Axe. A steel battle axe is propped in the northwest corner.

For more information follow

this link.