Akatosh the Divine
Admin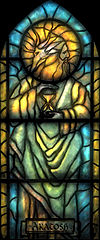 Appearance

: 188

Ranged attack

: 2010-08-02


Subject: Great Chapel of Mara Mon Aug 23, 2010 4:09 am

---

Great Chapel of Mara

Great Chapel of Mara is in the western end of Bravil's first island. This chapel specializes in Speed and Willpower. The building is divided into the Great Chapel of Mara, the Chapel Hall, and the Bravil Chapel Undercroft. All three front doors of the chapel reveal an entrance two steps elevated from the main room ahead. A staircase leads down from the entrance to a small hallway with three doors. The two doors on the west wall reveal the Undercroft and the door on the east wall leads into the Chapel Hall. The cathedral altar is at the end of the room, and nine altars to each of the Nine Divines surround the edges of the room.

For more information follow

this link.