Akatosh the Divine
Admin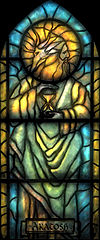 Appearance

: 188

Ranged attack

: 2010-08-02


Subject: Bravil Fighters Guild Mon Aug 23, 2010 4:08 am

---

Bravil Fighters Guild

Bravil Fighters Guild is on the east side of the main island, between the bridge to Castle Bravil and The Fair Deal. The ground, second, third, and basement floors are divided into Fighters Guild, Bravil Fighters Guild 2nd Floor, Bravil Fighters Guild 3rd Floor, and Bravil Fighters Guild Basement. Upon entering the building, a bookshelf to the left holds a copy of The Old Ways. Around the corner, a rack holds two iron daggers and one iron longsword. Nahsi, Tadrose Helas, Vincent Galien and a Fighters Guild Porter may be found in this main entrance.

Farther around to the left, past the stairs up to the 2nd Floor, a steel dagger sits on top of a desk. A chest below the Fighters Guild banner holds clutter, as does the one behind the desk. Another steel dagger sits on the bookshelf, and the cupboard next to it contains clothing. All of these containers respawn. Next to the stairs is a chest with up to three leveled pieces of equipment.

The area to the right of the main entrance has a large round dining table with five chairs. On the table are two loaves of bread, nine balckberries, grapes, an orange, a cheese wedge, a head of lettuce, a bottle of cheap wine, and a bottle of Tamika's West Weald Wine. The chest behind the table contains only clutter, but the cupboard next to it contains beef, bread, a cheese wedge, and a carrot. Two cupboards sit back-to-back in the middle of the room; the one facing west holds dishes, and the one facing east holds clutter.

The locked display case in the southeastern corner showcases a glass ceremonial cuirass and a similar set of gauntlets and a shield. On the rack here is an iron claymore and a warhammer. The two barrels in the east corner contain clutter and/or a repair hammer. The door next to these barrels leads to the Basement.

For more information follow

this link.