Akatosh the Divine
Admin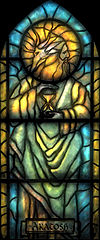 Appearance

: 188

Ranged attack

: 2010-08-02


Subject: The Balmora Guild of Fighters Mon Aug 02, 2010 7:03 am

---

The Balmora Guild of Fighters

The Balmora Guild of Fighters is the Fighters Guild branch in Balmora, located in the center of town next to the Guild of Mages. Those who wish to join the Fighters Guild can speak with Eydis Fire-Eye on the top floor, who also hands out orders and can train those of Protector rank and higher. Wayn on the ground floor sells equipment and tools for fighters, and also has a number of poisoned weapons for sale. An informant for the Blades, Hasphat Antabolis, can be found on the bottom floor of the guild. All of the members here are trainers.

Members can stock up from the equipment chest on the ground floor, and can also take a rest in the room with free beds downstairs. Crates with random weapons and equipment can be found behind Wayn, though taking anything from these crates counts as stealing. A locked door on the bottom floor contains a trap door behind it, which leads to a storage area.

Elder Scrolls Wikia entry on this location can be found

here.